25 Jun

ESG and SafeTruck : A focus on Environmental Sustainability and Governance

ESG and SafeTruck : A focus on Environmental Sustainability and Governance
Version 06/2023 – 25 June 2023 – 3 Minutes
ESG and SafeTruck : A focus on Environmental Sustainability and Governance
ESG (Environmental, Social, and Governance) is a framework for investing and corporate governance that emphasizes the integration of environmental, social, and governance factors into investment decisions. SafeTruck's Fleet Management System, Fuel monitoring solution, DriverCare and insurance telematics aligns with ESG principles in the following ways:
E : Environment
Reduce Fuel waste for Greener Environment
SafeTruck's Fleet Management System offers a Fuel Management System feature that combines SafeTruck IoT devices and software to gather real-time vehicle data through a telematics integrated system. This system regulates fuel usage, activities, expenses, reducing fuel consumption and carbon emissions. Digitalization eliminates manual tracking and paper recording, and access to real-time information. This simplifies the monitoring of fuel-related expenses and consumption, providing fleet managers with the benefits of digitization.
Fleet operators accessing real-time data on SafeTruck's sustainable systems by logging in with their credentials under APAD ICOD code 11. By utilizing IoT technology, the system connects vehicles to the cloud, providing a single platform for fleet managers to improve fuel efficiency. The dashboard presents a clear overview of fuel consumption and efficiency, total idling, and estimated costs, making it easier to reduce fuel waste.
S : Social
Insurance telematics with Vsure in SafeTruck Mart
SafeTruck has partnered with Vsure, an insurance company to provide more personalized and cost-effective insurance policies to fleet managers and truck drivers. The main features of the partnership is telematics insurance, where Vsure utilizes data from the telematics technology to assess driving behavior and offer customized insurance policies. This can potentially help trucking companies reduce insurance costs and promote safe driving habits among their drivers.
In addition to telematics insurance, SafeTruck's Fleet Management System includes medical services for truck drivers. This can be a crucial feature for drivers who spend long hours on the road and may need medical attention while away from home.
Reduce accident rate with SafeTruck AI Fatigue Monitoring
90% of heavy vehicle accidents are caused by driver drowsiness. SafeTruck's AI Fatigue Monitoring is designed to detect the early signs of fatigue in drivers and help reduce the risk of accidents caused by driver fatigue. By using advanced AI technology, the system can identify changes in driving behavior that may indicate fatigue or dangerous driving (using cellphone or smoking while driving). The system will send out alerts to the driver and operator to take appropriate action to prevent an accident. So, with AI technology in SafeTruck's AI Fatigue Monitoring, we had help to reduce the accident rate for fleets and improve overall road safety.
G : Governance
SafeTruck's DriverCare application is designed to adhere to APAD ICOP regulations, ensuring compliance. DriverCare is a SafeTruck application that tracks driver behavior, assesses and evaluates road pilot movements, and promotes civic-minded driving and accident prevention, while reducing operational costs, ensuring regulatory compliance, and improving job performance.
Fleet Safety with Paperless Pre-trip Inspection list
Fleet safety is further enhanced with the use of electronic pre-trip inspection lists provided by DriverCare. These lists not only educate drivers about safe driving practices but also prioritize fleet safety. They include vehicle inspections and emergency protocols to ensure that the vehicle is in good condition, promoting the safety of drivers and other road users to reduce accidents.
The DriverCare system enables paperless documentation, making it easy for fleet managers to monitor and reduce risks while promoting sustainability and social responsibility.
In conclusion, SafeTruck's Fleet Management System aligns with ESG principles by reducing fuel consumption and carbon emissions, promoting safe driving habits, and ensuring compliance with regulations. It provides a comprehensive solution for fleet managers to monitor and reduce risks while promoting sustainability and social responsibility.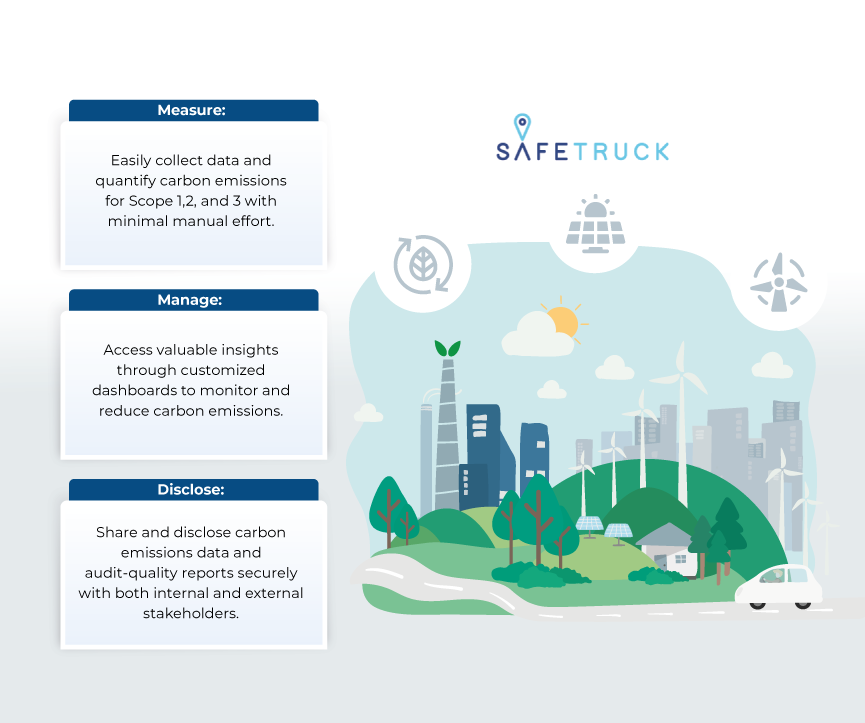 Choose SafeTruck for your Sustainability Efficiency
SafeTruck's Fleet Management System provides solutions for various ESG (Environmental , Social and Governance) factors for companies with fleets. The system offers features for efficient fuel management, fatigue monitoring, driver safety, and carbon emissions tracking. These features not only improve the environmental and social impact of fleet operations but also promote good corporate governance.
By integrating telematics technology and digitalization, SafeTruck's system streamlines routine tasks, reduces manual intervention, and provides real-time data for informed decision making. The data can be easily monitored and analyzed using customized dashboards, enabling fleet managers to track carbon emissions and implement measures to reduce them.
Overall, it can be concluded that SafeTruck's Fleet Management System is a comprehensive solution for companies looking to improve their ESG performance, reduce carbon emissions, and promote sustainable fleet operations while ensuring driver safety and regulatory compliance.