13 Apr

SafeTruck Helped Prevent Fuel Theft By Saving Customer Fuel Monitoring System

SafeTruck Helped Prevent Fuel Theft By Saving Customer Fuel Monitoring System
Version 04/2023 – 13 April 2023 – 3 Minutes
SafeTruck Helped Prevent Fuel Theft By Saving Customer Fuel Monitoring System
Overview
Fuel is one of the most expensive expenses for fleets and in fact it is said to be the second largest expense trailing, according to multiple surveys. Although fleets cannot control the price at the pump, they may drastically reduce the quantity of fuel consumed. Any firm that runs a fleet of automobiles has been demanding improved fuel efficiency since average fuel prices have been more volatile in recent years.
Better visibility into fuel patterns, including wasteful or unusual behaviour, like idling and theft, is made possible by a fuel management system. One of the largest costs for commercial fleets is frequent fuel. It was stated that an average of 24% of their fleet costs were spent on fuel. It is obvious that keeping these expenses to a minimum can result in significant fleet savings, yet managing fuel efficiently can be difficult.
Introduction
The second-highest fixed expense for fleets is fuel. It can account for 60% of the overall operational expenses on average. Fuel monitoring technology integrated with vehicle tracking systems can be an efficient approach to learn more about the performance and fuel efficiency of a fleet. These sensors can supply the fleet managers with high-quality data that can guide their fuel economy plan by assisting them in understanding fuel tank levels, idling, fuel use, and more.
Fuel sensors can be used by fleet owners and operators to monitor and manage fuel consumption. It can use this to stop fuel theft by learning about fuel usage and receiving real-time notifications on abnormal fuel usage patterns. Fleet owners and operators can also keep an eye on fuel efficiency and take action when necessary in response to low-mileage cars.
According to some estimations, fuel theft is still a significant issue for all organisations. As a result of Malaysia having one of the lowest gasoline prices in the Asia-Pacific area, there are increasing attempts to steal gasoline from moving automobiles. The Malaysian Ministry of Domestic Trade and Consumer Affairs (KPDNHEP) has reported a recent incident in which a gasoline thief was apprehended after the case of stealing two storage tank compartments from a vehicle that each held 5,000 L of fuel.
Challenges
Today, the major problem that can be seen is fuel theft and for that, until now it does not have any major solution or parameter to have control on it. Some organisations have started to keep statistics as detailed as possible to determine the global impact on fuel theft from the truck. These types of situations are a classic example of the butterfly effect which is stealing several hundred litres of diesel fuel from the trunk's tank in a forgotten parking lot somewhere in the middle of the route can have dire consequences for business, customers and ultimately for the entire market.
It is critical for any business to maintain customer satisfaction and gain their loyalty. Similarly, our customer encountered almost either not sure it was fuel theft cases or not :
According our customer feedback,
"Before we moved to Safe Truck telematics integrated solutions, we were using the old version of the GPS tracking system. It has caused us lots of problems. One of them was when we realised that our vehicles were missing from their designated parking spot. Equipped with SafeTruck's GPS vehicle tracking and fuel monitoring system, it was immediately notified by its ignition alerts that these vehicles had started to move out from the parking space without authorisation. We used Track Vision's immobilisation feature to remotely control the vehicle lock for the vehicles. Using this feature, it was able to cut off the fuel supply to the vehicles. As a result of the vehicle lock, the thieves were unable to restart the vehicles and drive away with them"
About 20% of SafeTruck customers, who we already assist with fuel theft, regularly check in on their fuel monitoring system several times per month. In addition to using the data gathered, SafeTruck will continuously monitor suspicious fuel drop operations to estimate fuel theft. SafeTruck immediately notifies the clients anytime the gasoline level drops, despite the fact that it is impossible to fully predict whether there is a fuel theft. For instance, SafeTruck's gasoline monitoring system will assist customers by sending fuel accuracy data, and from there, if it is a true fuel theft, our clients will take the necessary action.
SafeTruck Fuel Drop Information in Statistics Aspect
Table 1.1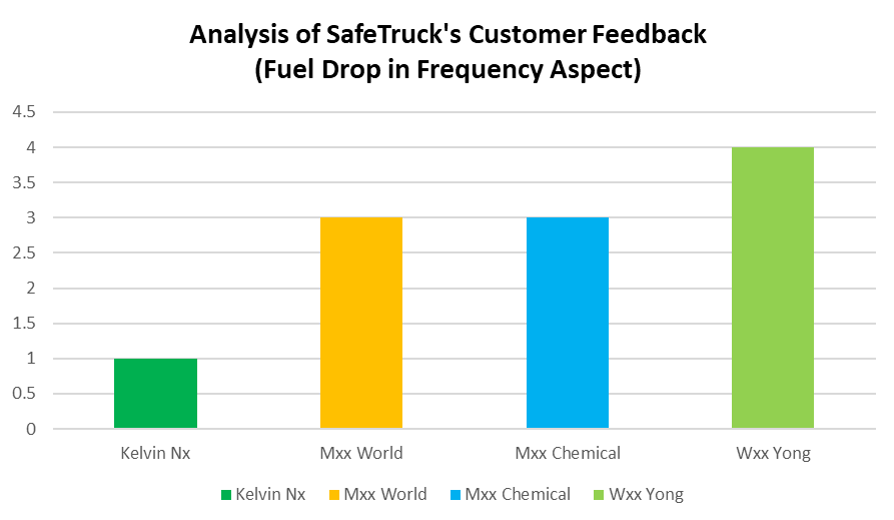 We were able to gather some of our customers' opinions about how the frequency of gasoline drops is assisting in preventing fuel theft based on their feedback. Overall, it is clear that Wei Yong, one of SafeTruck's clients, used its services frequently, dropping off fuel three to four times per week. Meanwhile the lowest fuel drop can be seen from our customer Kelvin Ng with only a few times every month. This demonstrates how Safe Trucks fleet management system to stop fuel theft is evidence that our business is looking for better ways to use fuel more efficiently and eradicate fuel theft.
Table 1.2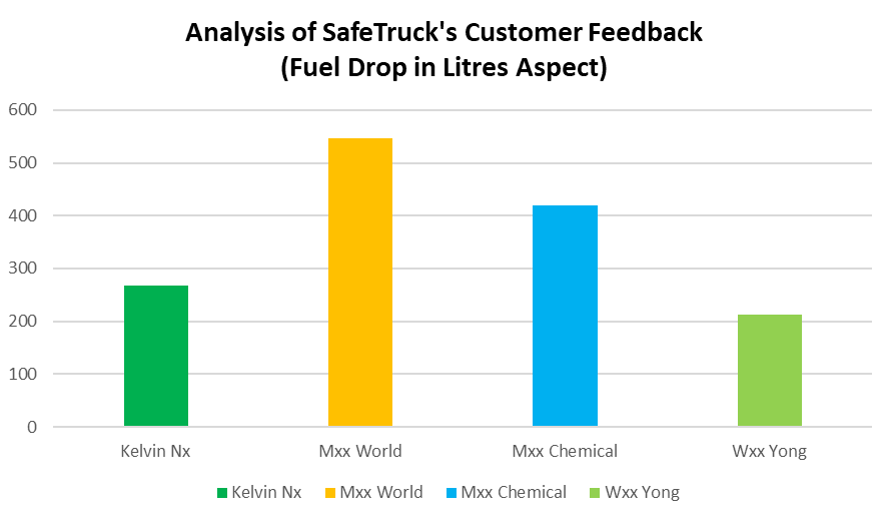 Fuel Drop in Litres Aspect is another additional piece of information. Overall, it is evident that Max World, one of Safe Truck's clients, consistently experiences so many fuel losses (547.0 litres), compared to Wei Yong, who only experienced 212.7 litres. This demonstrates how occasionally drivers don't even realise when their fuel levels decrease significantly in litres, which might make them a target for fuel theft. As a result, Safe Truck's programmes offer an efficient reaction to fuel drop issues, enabling us to alert our customers whenever necessary.
SafeTruck demonstrates the fast result features and prompt redressal methods with Track Vision's ability to assist fleet managers with end-to-end fleet management solutions. Our tracking solutions ensured that the company's assets were safe, secure, and returned to their rightful place.
TrackVision : Solution by Safe Truck 
With fuel theft on the rise, it can be challenging to know if all of the fuel transactions are legitimate purchases from authorised vehicles in the fleet. Without properly tracking data to understand which vehicles are at which stations at what times, there can be a lot of guesswork involved in confirming fuel purchase history. This can cause fraudulent expenses that might be difficult or time-consuming to verify.
Luckily, a telematics solution with fuel sensors or fuel monitoring can provide precise information on the driver's fueling location. By using SafeTruck's real-time GPS tracker it can identify a vehicle's location, fuel reports can show whether or not fuel transaction was completed by a verified vehicle in the fleet.
Using Track Vision, the companies were able to not only dramatically reduce their operating costs, but also increase the safety of fleet drivers and the efficiency of the road journey. Our system has enabled us to provide data-informed decisions on a consistent basis, such as precise data on fleet drivers and vehicles and real-time understandings of fleet operability.
Our real-time fuel consumption monitoring team successfully identified and assisted with a few fuel theft cases within the company and successfully  helped BillionStar Express to reduce fuel theft cases in one year. Driver behaviour scores are computed, providing feedback and advice to drivers on a variety of key indicators affecting fuel efficiency, such as speeding, idling, sudden braking, and harsh steering. We have successfully reduced the number of vandalism incidents in the company with the help of our consulting team.
Furthermore, Internet of Things (IoT) features such as GPS Tracker are at the heart of the telematics system. SafeTruck features , under each vehicle's dashboard, a palm-sized GPS receiver collects real-time data about the vehicle's location and status. The telematics system transmits GPS tracker data to the fleet system's central server via cellular network. As a result, with a telematics solution that detects unauthorised fuel purchases caused by misuse, theft, fraud, or other types of fraudulent fuel activity. Alerts that automatically notify when a vehicle's fuel level drops dramatically in a short period of time, for example, can proactively detect other types of fuel theft. This demonstrates that our system is capable of reducing fuel theft reports, and our customers are pleased with it.
Achievement :
Reduce the waste caused by fuel theft.
Determine the suitability of electrification
Reduce fuel waste caused by driver habits
Conclusion
Other cases of fuel theft can also be tracked using telematics. For example, fuel management systems can notify fleet managers when fuel levels drop dramatically in a short period of time. If someone is attempting to syphon off fuel, fleet managers will be notified in real time. Fleet telematics solutions provide detailed information about a driver's fueling location and fuel transactions. As a result, fuel theft can be avoided and dealt with effectively.
Having the right fleet management solutions in place ensures that the fleet runs as efficiently and economically as possible. Safe Truck provides continuous real-time visibility into field operations, driver behaviour, and fleet vehicle condition. Knowing what's going on in the field allows for better delivery route management and more efficient fleet operations. As a result, the customer was able to eradicate the fuel theft with the help of Safe Truck's fleet management solution, which is driven by telematics-integrated software.